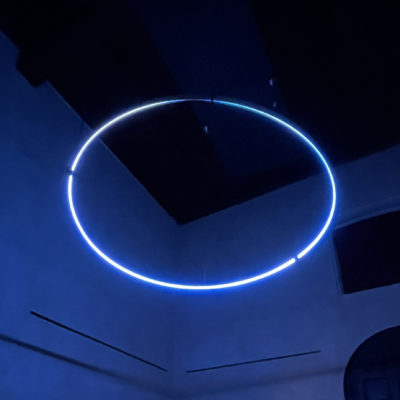 Marco Brianza – Above us, only sky – 2022 – 120×120 cm – aluminium and polycarbonate profile, addressable LED, Arduino microcontroller.
On the occasion of the Light Art 2022 Biennale in Mantua "Contemporary research on Light, between Art and Design", Marco Brianza collaborated with BILUMEN, a Milanese company that designs and develops lighting fixtures and lighting solutions only for custom projects.
This collaboration presents a suspended circular light that goes beyond the simple lighting function, conveying a poetic atmosphere based on the abstraction of a natural setting through the use of a chromatic line of over 500 pixels.
In this specific installation at Mantegna's house the artist has created an algorithm that generates a sky with passing clouds, in connection with the famous fresco in the "camera degli sposi" and the architecture of the courtyard.
The title of the work "Above us, only sky" is a verse from John Lennon's song "Imagine" which for over 50 years has invited men to overcome certain concepts, such as religion and country, which, although they are rooted and lived as absolute in common feeling, they are ultimately human inventions and often sources of harmful conflicts.