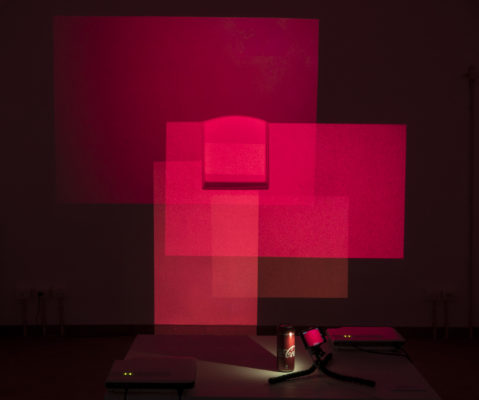 Red, 2018
Red object, smartphone, video-projector(s), computer(s), software algorithm; variable dimensions
Red is an installation that explores color with contemporary photographic technologies.
A smartphone photographs a red CocaCola can every minute, the image is sent to a computer and shown with a video projector.
The image in this state appears monocrome.
After some seconds the pixels of the images are being progressively swapped and so comparing pixels form different part of the image we can clearly see that there are may different shades of red composing the image: monocrome is an abstract concept that does not happen in the real world.
The installation uses 4 different video projectors, each one renders color with its own specificity so also the notion of red depends on the device and not an absolute value as it might have been for mineral pigments.
To emphasise the multiplicity of the red possibilities the images of the projectors are overlapped creating new combinations. A niche present on the site of the installation is also inglobated in the middle of the projection creating new color possibilities and bringing back the color to a three dimensional space.
Exhibition: Repeat & Shuffle
Date: April 17th – 22nd 2018
Location: La Casa dello Zecchiere via del Bollo 3, Milano