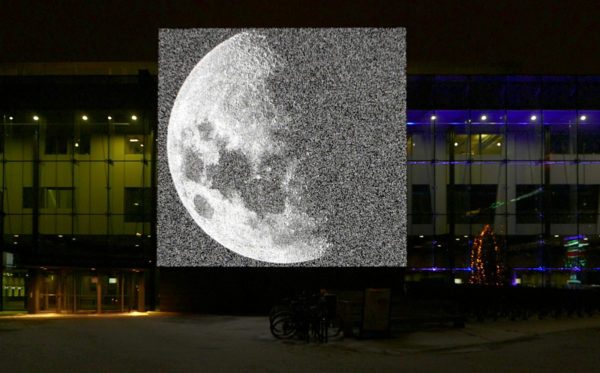 Moonlight, 2019
Real-time generative video, for large outdoor screens
Large LED screens are becoming more and more popular to deliver visual content in public spaces. Their impact is not limited to the space they occupy as typical printed billboards: the light they emit fills the space surrounding the screen often creating an unpleasant environment due to the sudden light change of the commercial clips.
Moonlight intends to address this issue at night – when this phenomenon is more relevant – by generating a smooth dynamic video content that shifts the use of the screen from an attention attractive device to a lighting one, used to create a mood in the space.
Moonlight collects royalty free images of the moon from Internet and uses them as color sources, eventually bringing a moonlight atmosphere to the space. A software algorithm slowly decomposes the moon images by scrambling the pixels so that the image screen becomes a pseudo-monochrome lighting device where just the average color is recognisable and the attention is re-focused on the space, not on the screen.
The Installation has been designed for LuxHelsinky 2019 and is shown in the screen in front of Helsinki Music Centre.
In this event the installation is presented as pre-generated 2,5 hours video of 100 moons. The kind authors of the images are linked in this Flickr gallery
Exhibition: Lux Helisinki 2019
Date: January 5th – January 9th 2019
Location: Music Center – Mannerheimintie 13 A, 00100 Helsinki, Finland
Talk at LuxHelsinki 2019 symposium